This 10th year of 12 months, 12 healthy goals is better than ever! Healthy Strides is a free health and wellness awareness program that helps you make better decisions about your health one month at a time.
Each month is dedicated to one healthy goal with credible information for achieving it and a guide for forming healthy habits. Build upon each goal from month to month and by the end of December, you will have developed a sustainable balance in your health.
If you or your company is interested in becoming a 2020 Healthy Strides sponsor, please contact Margaret Thaxton, Director of Development, via phone at 703-324-8532 or via email.
Healthy Strides 2020 Events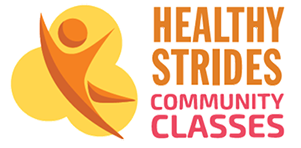 New in 2020! VIRTUAL COMMUNITY FITNESS CLASSES
Join some of your favorite RECenter instructors for livestreamed fitness classes. FCPA is adding new times and formats to our schedule and can now stream with music!
Healthy Strides is excited to offer NEW virtual classes, starting with FITNESS! Healthy Strides Community classes are LIVE and FREE to participants thanks to generous sponsors.
Joining one of these scheduled classes is easy. Here's how!
2020 Healthy Strides 10th Anniversary Calendar
The 2020 Healthy Strides 10th Anniversary Calendar is available online for download or a printed calendar can be mailed to you if you contact the Park Foundation and provide your name and mailing address.