Donate to Chessie's BIG Backyard!
Adopt a Chessie's Carousel Animal!
A new carousel, similar to that at Clemyjontri Park in McLean, opened July 8, 2017 at Springfield's Lee District Park. Located near Chessie's BIG Backyard play area and Our Special Harbor sprayground, this accessible carousel is a place which every child, including individuals with mobility issues, can enjoy.


A $10,000 gift to the Fairfax County Park Foundation enables the donor to name and adopt a special Chesapeake Bay-themed feature such as a Hummingbird, Frog, Deer, Whooping Crane, Swan Chair, Coyote, Wheelchair Chariot and beautiful Horses!
These carousel animals are available for adoption:

Call 703-324-8532 or email us!
The following animals have already been lovingly adopted:
Shell-Lee (Sea Turtle) adopted by Fairfax County Park Foundation
Sunshine (Grey Wind Dancer Horse) adopted by The Kelley Syron Sunshine Fund
Clemaline and Heneska (2 Horses with ADA seat) adopted by Hilltop Sand & Gravel Company
Soar (Eagle) adopted by Joey Pizzano Memorial Fund
Topaz (Seahorse) adopted by The Kelley Syron Sunshine Fund
Elane (Trojan horse) adopted by 495, 95, and 395 Express Lanes operated by Transurban
Socrates (Brown Wind Dancer Horse) adopted by The Adler Foundation
Dakota (Brown Horse) adopted by The Adler Foundation
Sunflower (Swan Chariot) adopted by The Children's Therapy Center and The Kelley Syron Sunshine Fund

---
Nautical Cove
Nautical Cove play area features opened on November 16, 2013 at Chessie's BIG Backyard in Lee District Park.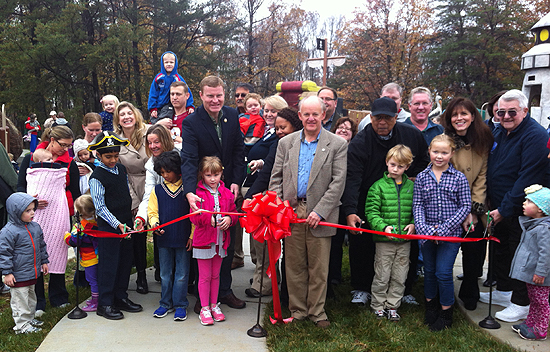 Join these sponsors to help make all of
Chessie's BIG Backyard a reality!
Sponsorship opportunities exist for major donors to fund elements of the facility which will be enjoyed by hundreds of thousands of children and family members each year. Questions? Contact us by e-mail or phone 703-324-8582.
See this rendering of Chessie's BIG Backyard playground sections including:
A Chesapeake-Bay themed playground will incorporate slides, swings and other equipment specially designed for use by all children, including those with special needs.
Tiki Village play area is open.
Nautical Cove play area for ages 2-5 is open. Fundraising for protective shade structure is underway!
Watch these two short videos and be inspired by young Rohil Bhinge's fundraising work for the Nautical Cove. Start with 1st Fun Run and then 2nd Annual Fun Run for the benefit of the Nautical Cove.
Future additions to Chessie's BIG Backyard include:
The Carousel with old-fashioned charm will be thoroughly modern in design and fully accessible.
A family picnic area with covered shelters will offer a place to take a break from the action to enjoy a picnic