Take 12! Steps for Family Health in 2014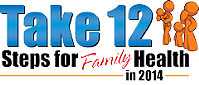 12 months, 12 healthy goals. Take 12! is a free health and wellness awareness program. Take 12! helps you make better decisions about your health one month at a time. Each month is dedicated to one healthy goal with credible information for achieving it and a guide for forming healthy habits. Build upon each goal from month to month and by the end of December, you will have developed a sustainable balance in your health.
Take 12! 2014 Sponsorship Agreement.
Take 12! 2014 Sponsorship Opportunities
Title Sponsor
---
Major Sponsor
---
Supporting Sponsors
---
Registration is open for the 2014 Healthy Strides Community 5k/10k. The event will be held on Saturday, April 26, 2014 at 7:30 a.m. at Burke Lake Park. The event will be capped at 500 runners. Register now to secure your spot and to take advantage of the $25 Early Bird rate.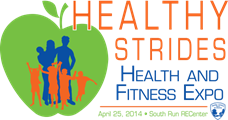 Join us for the 2nd Annual Healthy Strides Health & Fitness Expo, Friday, April 25, 2014 from 4 p.m. to 7:30 p.m. at South Run RECenter. Fun and activities for the whole family, including a Kids Fun Run, Kids Challenge Course, Moon Bounce, vendor booths, games, DJ, and much more! Healthy Strides 5k/10k pre-race packet pick-up and registration will be available. A portion of the proceeds from the Healthy Strides Community 5k/10k will help fund summer camp opportunities for children living in homeless shelters and transitional housing in Fairfax County!
Healthy Strides Health & Fitness Expo Sponsor
Join Our Mailing List